Weddings at Lambs Road Tudor Cathedral
Apr 29, 2018
Events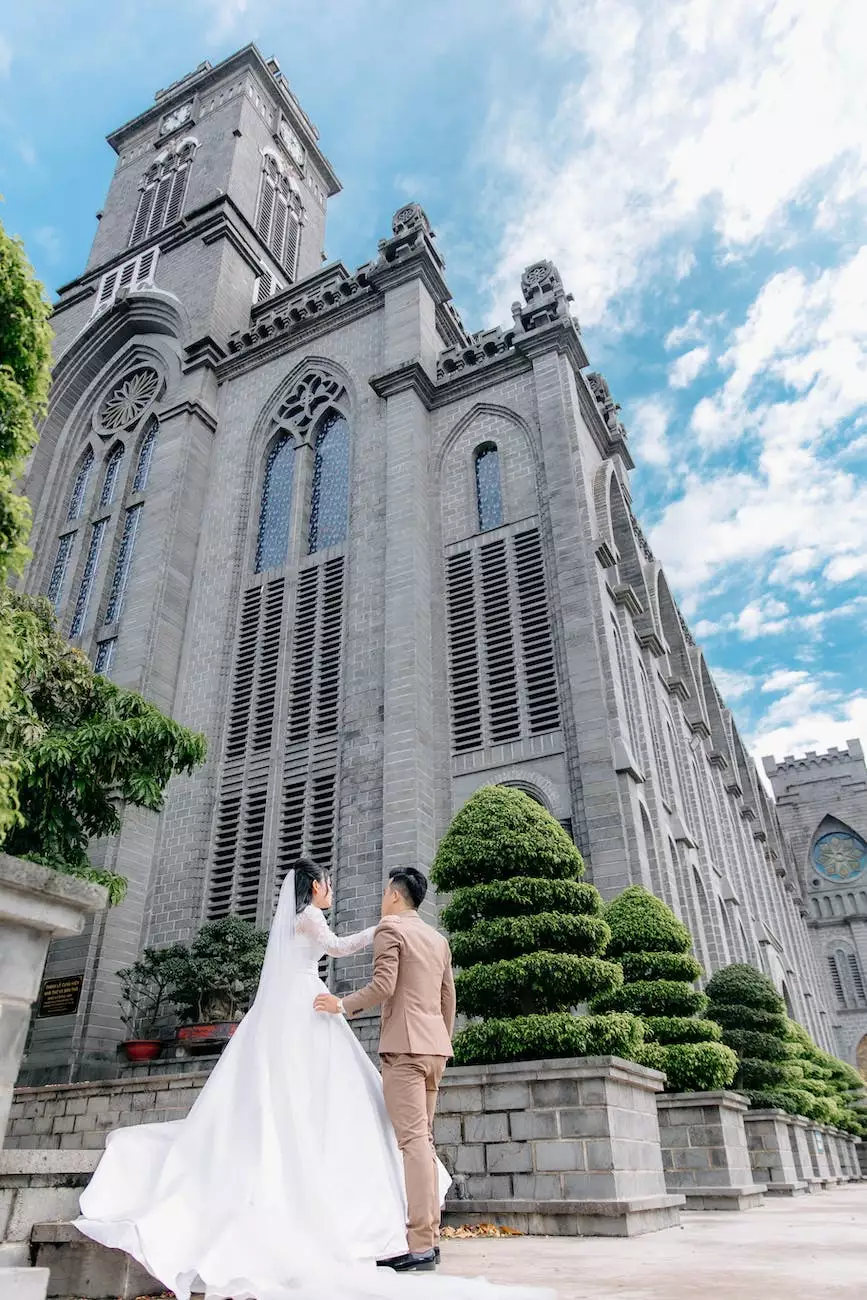 A World of Love and Elegance
Your dream wedding deserves the perfect setting. At Lambs Road Tudor Cathedral, we understand that your special day should be nothing short of exceptional. As a leading venue for weddings, we take pride in offering a one-of-a-kind experience filled with love, elegance, and unforgettable memories.
Magnificent Venue that Inspires
Our Tudor-inspired cathedral stands as a symbol of grandeur and timeless beauty. With its stunning architecture, breathtaking stained glass windows, and a romantic atmosphere, Lambs Road Tudor Cathedral provides a mesmerizing backdrop for your wedding celebration. Our venue effortlessly blends tradition with modern sophistication, offering a truly unique experience.
Unparalleled Facilities
When it comes to your wedding, each detail matters. Our cathedral boasts spacious halls, adjacent gardens, and a sprawling courtyard, allowing for both indoor and outdoor ceremonies. Whether you envision an intimate gathering or a grand celebration, our versatile spaces accommodate your every need.
Personalized Services
At Lambs Road Tudor Cathedral, our team of dedicated wedding specialists is committed to making your wedding day exceptional. From the moment you step through our doors, we are here to guide you through every aspect of your wedding planning process. Our personalized services ensure that your vision is brought to life, creating an unforgettable experience for you and your guests.
Tailored Packages for Your Perfect Day
We believe that every wedding should be a reflection of your unique love story. Our tailored wedding packages are designed to meet your specific preferences and requirements, giving you the flexibility to create a celebration that is truly your own. From the ceremony and reception to catering and decor, our packages provide a comprehensive solution for a seamless wedding experience.
Enchanting Ceremony
Exchange vows in our elegantly decorated ceremony halls, draped in splendor and filled with love. Whether you prefer a traditional or contemporary ceremony, our experienced team will work with you to curate a moment that is crafted specially for you and your partner.
Exquisite Reception
Celebrate your love story with an exquisite reception that delights all the senses. Our expert chefs and catering team will create a delectable menu that tantalizes taste buds, providing a culinary journey that perfectly complements your wedding festivities. Our attention to detail ensures that your reception is a seamless experience from start to finish.
Stunning Decor and Ambiance
Indulge in the art of ambiance with our exquisite decor options. From floral arrangements to lighting and table settings, we create an enchanting atmosphere that captivates your guests and leaves a lasting impression. Our talented team will work closely with you to bring your vision to life, ensuring every detail is flawlessly executed.
Unforgettable Memories
Don't just take our word for it – hear from our happy couples who have celebrated their special day at Lambs Road Tudor Cathedral:
"Our wedding at Lambs Road Tudor Cathedral was absolutely magical. The venue itself is breathtaking, and the personalized service we received made us feel truly special. Our guests were amazed by the stunning decor and seamless organization. It was a day we will cherish forever. Thank you!" - Emily and Jack
"We cannot express how grateful we are for Lambs Road Tudor Cathedral. The team went above and beyond to make our wedding day perfect. The attention to detail was incredible, and the venue provided a romantic and elegant setting. Our families and friends are still talking about how unforgettable our wedding was. Highly recommended!" - Sarah and Michael
Start Planning Your Dream Wedding
Embark on a remarkable journey of love at Lambs Road Tudor Cathedral. Contact our experienced wedding specialists today to begin planning your dream wedding. Let us take care of every detail, so you can focus on creating lifelong memories with your loved ones.